We want to make

you

Smile!
Joining the e-Smile Club today is your fast, free and easy way to get the latest news, information and smiles from Operation Smile Canada.  Just fill out the form below and you'll be all set.  Together with you, Operation Smile is striving to deliver more smiles by having more people caring for more patients with cleft lip and palate in more places.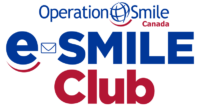 Welcome to the e-Smile Club and get ready to smile!
Our work starts with a child…
and leads to a smile…
and so much more!
At Operation Smile we believe every child born with a cleft lip and/or cleft palate deserves exceptional comprehensive care. We envision a future where health and dignity are improved through safe surgery.
However, surgery is just the start of what we do and the impact we have on children, families, communities, and countries around the world.