Smile Partner
Monthly giving program
SMILE PARTNERS are just like you – generous and caring people who want to make a difference in a child's life, every single month.
Donating monthly is one of the best ways you can positively impact the lives of children who need us, and their families.  Giving monthly helps provide free, safe surgery and new smiles to children with cleft lip and cleft palate.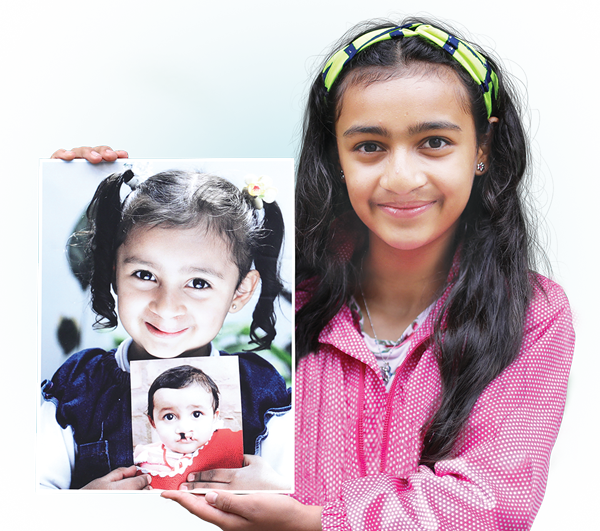 New Smiles... and so much more
For many patients, surgery is just the beginning of their smile journey.  In fact, the journey starts at birth.  We see many infants with cleft conditions shortly after they are born and well before it's time to operate.  These infants often need help because feeding can be difficult and can lead to malnutrition.  Pre-surgical care and nutrition programs help ensure children are healthy and ready for surgery when the time is right.
After surgery, many children require follow up care.  Laura (pictured top) was born with a cleft lip and palate and has been a patient her whole life.  With her mom Nancy, she first visited Operation Smile Colombia when she was just two days old. Over the years, Laura's had five surgeries, continuous dental and orthodontic work, and ongoing speech therapy. She's grown up to be a vibrant teenager and she's still part of the Operation Smile family.
We also care for families – before, during and after surgery – by supporting them with counseling, information, nutrition programs and instructional classes.  In many countries local care centres have become essential hubs for coordinating and delivering care, providing help, and offering hope – especially during the pandemic.
Why Become a Smile Partner Today?
Donating monthly is easy, convenient, and helps you budget.  You can use the payment method that best suits you – credit card or automatic bank withdrawal.  We'll keep you informed about the impact of your gifts throughout the year.
Every gift makes a difference

in the life of a child.
$20/month
Over 12 months, you can help deliver to a child the free, life-changing surgery they are waiting for.
$30/month
Help patients and their families be ready for surgery when the time is right with nutrition and counselling programs.
$50/month
Give the gift of speech therapy so patients have the skills to speak with confidence.
$100/month
Provide comprehensive cleft care, like ongoing dental care and orthodontics.
$240/month
Restore hope, health and dignity with a new smile every month of the year, and so much more.
When you become a Smile Partner, you'll receive a stylish, reusable tote bag that will help spread awareness of cleft conditions, Operation Smile and the impact you're making by changing children's lives around the world through free, safe cleft surgery.
Michael is standing by to take your call, sign you up, or answer your email should you have any questions about joining the SMILE PARTNER family.
Contact him by phone at: 1-844-376-4530 or (locally in Toronto) at 647-952-8085
Email him at: [email protected]
Thank you so much for delivering life-saving surgery and complete cleft care to children waiting for their brand-new smiles.  They will have a brighter future ahead because of you, and they will never forget your kindness and generosity.